She's at it again!
It seems Thursdays are the only days I post, sorry. Once this drought and heat subside, and the cooler weather comes, we will be more active I promise.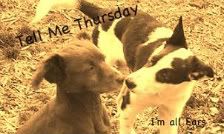 1. Who is your newest dog? Where is he/she from, and why did you choose this particular dog/breeding? This question posted by Jodi.
Our newest addition is Grace. Sweet Miss Chloe Grace.
She is from the All Border Collie Rescue here in Houston, but was actually being fostered in San Antonio. We chose her because she just seemed to fit right in. We had look at other dogs, at other rescues and none of them were "the one".
2. What traits drew you to this dog or breeding? (also by Jodi)
First off her and Riley hit it off from the get go and that was important to me, as we wanted a good friend for him. Also she is very loving and has such a soft demeanor, but can have a fun, feisty attitude when she wants. I don't think we could have made a better choice.
3. What's on your feet right now?
Right now?..... Socks :) I basically just got home from work, walked the pups, kicked off my shoes and now I'm typing this out. :) (Trying to take as long as I can, because when I finish I have to start cleaning...bleh.)
4. What are you reading right now?
Right now I am reading Shadowland by Alyson Noel and just started Steel by Carrie Vaughn. I love reading but lately haven't found the time :(
5. What upcoming trials are you looking forward to? If you don't trial dogs I'll take whatever activity that you're looking forward to.
There is a Rally trial coming up in October I believe. I want to enter Grace and hopefully we can earn the last leg for her RN!
There are some agility trials coming up in October as well and I think I might enter Riley in his first trial!!!